The MVSDA Fireflies Adventurer Club is an exciting program for children 4 years old through 4th grade. We aim to strengthen the parent/child relationship and further the child's development spiritually, physically, mentally, and socially.
Our Adventurer Club participates in activities that encourage involvement in community service projects, nature and camping, and field trips.  Adventurers have grade-specific curriculum and fun awards for each child to earn.  The Adventurers are always excited for investiture time when they receive their well-earned patches.  Our Adventurer Club is proud to have placed in the top 2 positions within the Chesapeake Conference of Seventh-day Adventists for the last 3 years.  
Adventurer Registration for the 2018-2019 year will be August 19, at Middletown Valley Church, from 2:00-3:30pm.  You can click here to download printable forms if you would like to fill them out at home before you come to registration.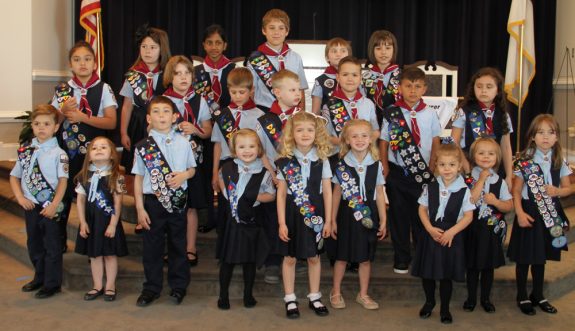 Our second annual Outdoor Exploration Day is coming for kids ages 4-15 who are interested in Adventurers or Pathfinders!  At this event, you will get a sneak peak of our clubs and some of the types of activities we do.  This year's Outdoor Exploration Day will be held at Mt. Aetna Retreat Center on Saturday, August 25th from 9:30am-7:30pm.  We will have a day planned full of worship, class time and of course fun earning our awards and honors.  Lunch and dinner will be served that day.  Pre-registration IS required.  Click here to register today!